Integral Astrology: Understanding the Ancient Discipline in the Contemporary World
by Armand Diaz, Ph.D.


A new paradigm is emerging in Western civilization, led by transpersonal psychology, chaos and complexity theories, general evolution theory, and the human potential movement. Leading developmental researchers are extending psychology upwards, linking it with mystical states to embrace spirituality. Coordinating fields of information both new and old, integral theorists are creating a truly holistic approach to the many ways of knowing that are part of the human experience.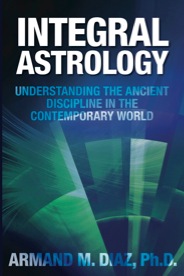 Astrology should have its place among these disciplines: through the Dark Age when materialism reigned in Western culture astrology held aloft a light, reminding us that we do not live in a meaningless, mechanistic universe but within a meaningful, conscious cosmos. Yet for astrology to be fully recognized, astrologers need to have understanding about their field: where it has been, where it is, and where we might take it.
In Integral Astrology, Armand M. Diaz, Ph.D., offers an exciting new way for astrologers to approach their ancient and diverse discipline. He emphasizes that there is not one astrology, but a number of astrologies, each of which expresses a particular place on the cultural landscape, an inner or outer orientation, and a stage of consciousness evolution. He shows how these diverse perspectives create a dynamic mosaic of astrological knowledge, and presents a model for a truly inclusive, integral astrology that honors both its traditions and innovations while also building bridges to other disciplines and ways of thinking.
Astrologers and students will not only expand their own awareness of astrology, but will also improve their ability to communicate about astrology with clients, other astrologers, professionals in other fields, and even the occasional skeptic.
Integral Astrology
will also help each astrologer to recognize their own strengths and limitations - an important step in becoming a better professional.
"Astrology is on an evolutionary journey that mirrors the evolution of human consciousness. The Paleolithic worldview gave rise to paleo-astrology. The Neolithic birthed astrodivination. Antiquity invented the horoscope and bound it to a rigorous logical determinism. Modernity introduced choice-centered astrology and Postmodernity introduced the dynamism of psychology. Armand Diaz' book
Integral Astrology
offers a timely look at the next wave of human emergence and describes with passionate eloquence how this perspective will transform the mother of all sciences... A ground-swelling vision that heralds the next wave of astrology."
- Rafael Nasser,
author of
Under One Sky
"Could the most important factor in astrology be the least discussed? The quality of consciousness which animates the chart interacts with astrology factors in a wide variety of ways. Armand Diaz takes us through these possibilities with clarity, wisdom, and a bird's eye perspective. We are able to more fully understand the evolution of astrology itself, how different approaches serve different people, and more clearly see the biases, motivations, and beliefs which inform astrological inquiry. This book is essential reading for any student or practitioner."
- Eric Meyers, M.A.,
author
of Elements and Evolution: The Spiritual Landscape of Astrology
and
The Astrology of Awakening: Volume 1: The Eclipse of the Ego


"It's rare for me to honestly say that an astrology book has taught me something new. Has made me think and expanded me perspective.
Integral Astrology
by Armand Diaz has done exactly that. Sinking my teeth into this book proved to be an eye opening experience and if you're a serious student of astrology or an astrologer, I know you'll absolutely savor it."
-
Maria DeSimone, Astrology by Maria
"I would like to recommend this recent astrology book release by Armand Diaz -
Integral Astrology
- which offers a a truly holistic approach to the study of astrology!"
-
Maurice Fernandez,
author of
Astrology and the Evolution of Consciousness, Volume 1

"It was a pleasure reading Armand's
Integral Astrology
and I highly recommend this book. In my view, it powerfully answers the question 'What is the essense of being an Astrologer?' keeping a myriad of perspectives in mind. I would say this book is a Must- Read for all students of astrology and is a pleasure read for counselors, astrologers, teachers, gurus, trainers, managers and all psychology enthusiasts who like to dive into understanding human nature and wish to excel in counseling. I appreciate the width of knowledge that's brought out in this book and the holistic approach of the author."
-
Aaarti Razzdan, Astrologer, LIC of India
"Absolutely loved it! If you believe that there's more than one way to do or use astrology, this one is a must-read! Even if you believe there's only one way to do astrology, it's STILL a must-read, but in this case you may get your cage gently rattled..."
-
Donna Van Toen,
author of
The Mars Book
"This book emphasises the importance of interconnecting other disciplines and encompassing all astrological branches as a part of the whole. There is a wealth of wisdom and insight in this book,presented in a clear and succinct way. Whatever point of your journey you are on as an astrologer, this is a gem of a book."
-
Natalie Delahaye, Astrologer, Surrey, England
"All I can say is that Armand has
liathróidí
for taking a risk by exposing many issues within astrology that are not commonly and openly discussed and especially discussing the most essential component that significantly influences the 'How' of manifestation of any astrological factor – consciousness. Integral Astrology is an essential read for any astrologer at any level of his/ her career but the subject matter is not likely to endear him to everyone."
- Andrew Smith, Astrologer, Dublin, Ireland


"Dr. Diaz has given us a rich and insightful integration of integral theory, individual psychology, and a profound understanding of astrology. I nominate it for one of the most interesting books for the summer, or any season for that matter."
-
Allan L. Combs Ph.D.
, author of
The Radiance of Being
and
Consciousness Explained Better


"This is a very important book for astrologers. Armand Diaz is proposing a wonderful map that not only guides astrologers to find their way into a serious contemporary intellectual discussion, but also helps to clarify what the work of astrology is, from within our own discipline. Diaz somehow manages to keep it simple; a lot of ideas are synthesized in this book.... The book brought me a new awareness of many experiences related to practicing astrology. I imagine that many other readers will appreciate Armand Diaz's brilliant book as well."
- Mary Plumb,
in her review for
The Mountain Astrologer

"This is a stimulating refreshing and inspiring book that is in perfect tune with the current outer planetary transits. Offering us a Promethean vision of an astrological future that is firmly grounded in Capricornian roots, it gently reminds us that our future lies in Neptunian integration and oneness with each other and with other disciplines and philosophies. I would highly recommend it for astrologers and non-astrologers alike at all levels of learning - all it requires is an open mind and heart."
- Margaret Gray,
from her review on
Amazon
and
ISAR Journal
"I would recommend this book to astrologers at all levels of learning their craft. It introduces newcomers to a model which places astrology in the context of New Paradigm perspectives, which they can take forward with confidence as part of the world-changing shift re-claiming that ancient insight `As above, so below' for a level of collective consciousness appropriate for the vastly more complex Universe we now know we inhabit. And it gives a good shake-down to the practice of more seasoned astrologers such as myself - who may be in danger of becoming set in our ways....."
- Anne Whittaker
, from her review in the
Journal of the Astrological Association of Great Britain
"Armand Diaz's effort to develop a way to define astrology's place in the modern world get the idea of a paradigm exactly right, but in the end does he develop that new model successfully? I will the leave that to the reader to judge, but as he says in the Epilogue 'The ultimate purpose of a multidimensional model is not to create a more elaborate system of pigeonholes, but to loosen the boundaries of our limitations, to learn to dance among a variety of perspectives.' And that is exactly what Integral Astrology does. Read it - it will make you think."
- Kenneth Irving, Ph.D.,
from his review in
Horoscope Guide.

Order
Integral Astrology
today for only $19.95, tax and shipping
included
within the United States, and to Canada, or 24.95 to the UK, Ireland, and Australia! (Other countries
email me
for information). Be sure to include your shipping address when you order! You should receive the book within a week of your order!





Or
Click Here to order on Amazon.


Check out an abbreviated
Table of Contents
and a short
excerpt from the Preface
.