Book Corner
These are some recommended books, including, of course, my own...
Transpersonal Astrology: Explorations at the Frontier
Produced and Edited by Armand Diaz, Eric Meyers, and Andrew Smith
This anthology is a compendium of innovative writing designed to further the transpersonal within the astrological framework. As a reflection of the revolutionary energies which currently swirl, Transpersonal Astrology: Explorations at the Frontier has a variety of cutting-edge thought to stimulate future directions of inquiry and practice. Sixteen unique perspectives and topics are addressed with a common theme: life becomes more rich and spiritually rewarding when we broaden our lens beyond the most immediate concerns. The incorporation of our fundamental interconnectedness and the reach towards greater wholeness is an endeavor which seeks to refresh astrology and promote its continued vibrancy and relevance. Enjoy this discovery of astrology at the frontier!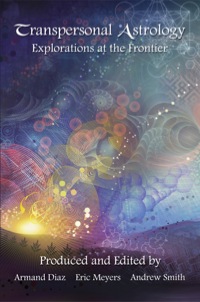 Contributing Authors: Benjamin Bernstein, Faye Cossar, Dena DeCastro, Armand Diaz, Adam Elenbaas, Maurice Fernandez, Adam Gainsburg, Margaret Grey, Mark Jones, Eric Meyers, Jessica Murray, Rafael Nasser, Julene Packer-Louis, Sherene Schostak, Andrew Smith, and Bill Streett.


Or
click here to buy on Amazon.com
Integral Astrology: Understanding the Ancient Discipline in the Contemporary World
by Armand Diaz, Ph.D.
A new paradigm is emerging in Western civilization, led by transpersonal psychology, chaos and complexity theories, general evolution theory, and the human potential movement. Leading developmental researchers are extending psychology upwards, linking it with mystical states to embrace spirituality. Coordinating fields of information both new and old, integral theorists are creating a truly holistic approach to the many ways of knowing that are part of the human experience.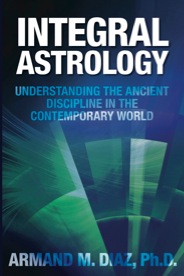 Astrology should have its place among these disciplines: through the Dark Age when materialism reigned in Western culture astrology held aloft a light, reminding us that we do not live in a meaningless, mechanistic universe but within a meaningful, conscious cosmos. Yet for astrology to be fully recognized, astrologers need to have understanding about their field: where it has been, where it is, and where we might take it.
In Integral Astrology, Armand M. Diaz, Ph.D., offers an exciting new way for astrologers to approach their ancient and diverse discipline. He emphasizes that there is not one astrology, but a number of astrologies, each of which expresses a particular place on the cultural landscape, an inner or outer orientation, and a stage of consciousness evolution. He shows how these diverse perspectives create a dynamic mosaic of astrological knowledge, and presents a model for a truly inclusive, integral astrology that honors both its traditions and innovations while also building bridges to other disciplines and ways of thinking.
"A ground-swelling vision that heralds the next wave of astrology."
- Rafael Nasser,
author of
Under One Sky
"This book is essential reading for any student or practitioner."
- Eric Meyers, M.A.,
author
of Elements and Evolution: The Spiritual Landscape of Astrology


"If you're a serious student of astrology or an astrologer, I know you'll absolutely savor it."
- Maria DeSimone, Insightful Astrology

Order
Integral Astrology
today for $19.95 (including tax and shipping)! (Other countries
email me
for information). Be sure to include your shipping address when you order!
Or
Click Here to order on Amazon
.